Working From Home Essentials For Coronavirus and Beyond
Everything you need to work from home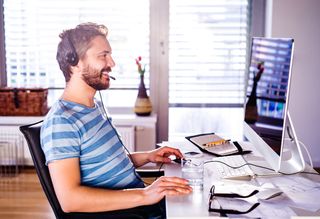 Businesses across the U.S. are adopting work from home practices as confirmed coronavirus cases are on the rise. With the government's mandate of social distancing to help manage the spread of the disease, many employees find themselves working at home for the first time. 
Luckily, our mobile lifestyle affords us access to project management and conferencing software which makes working from home fairly easy. If you need a new laptop, monitor or PC accessories to work remotely for the next few weeks or more, we're here to help. 
As more companies ask employees to work from home amid the coronavirus crisis, you'll need the right equipment. We're rounding up the best deals on essentials you'll need to work from home efficiently. 
Work from home laptop deals
Working from home requires a good PC for maximum productivity. If you're wopking with large documents and heavy documents, we recommend a PC with at least 8GB of RAM. 
Work from home monitor deals 
No work from office is complete without the right monitor. Expand your screen's real estate with a 32-inch display or a curved multi-display for juggling documents and spreadsheets. 
Home networking deals
Working from home requires a stable internet connection. That's where a whole home mesh router comes in. This system woks with your cable modem to blanket your home with WiFi, eliminating buffering and dead zones. 
For smaller homes, alternative, a WiFi range extender might be do the trick. 
Work from home accessories
Investing in the right PC accessories can help make working from home more comfortable. An ergonomic keyboard reduces risk of fatigue and promotes neutral wrist posture. Meanwhile, an wireless over-ear headset lets you take calls away from your PC, hands-free.