Victrola to Showcase Select Austere Tech Accessories on its Website
Austere, the manufacturer of premium home theater accessories, has formed a partnership with Victrola, the manufacturer of turntables and music-related products for the home. As part of the alliance, select Austere products, including V Series RCA Audio Interconnect Cables (2.0 m, $79.99) as well as its VII Series (six-outlet, $199.99, four-outlet, $129.99), and four-outlet III Series ($79.99) surge protectors, will be featured in the Accessories section at Victrola.com.
Austere products will be positioned as ideal companion pieces for two of Victrola's wireless turntables, the Stream Carbon Works with Sonos and Stream Onyx Works with Sonos, which both offer consumers a fully integrated solution for playing vinyl with their Sonos systems.
Related: Austere Adds Wall-Mount Power Devices
"Austere is thrilled to join forces with Victrola, a legendary audio brand that has been enriching homes with lifelong music memories for over a century," said Deena Ghazarian, Austere founder and CEO. "By combining our premium-quality products with Victrola's wireless turntables, we create flawless audio solutions that surpass expectations."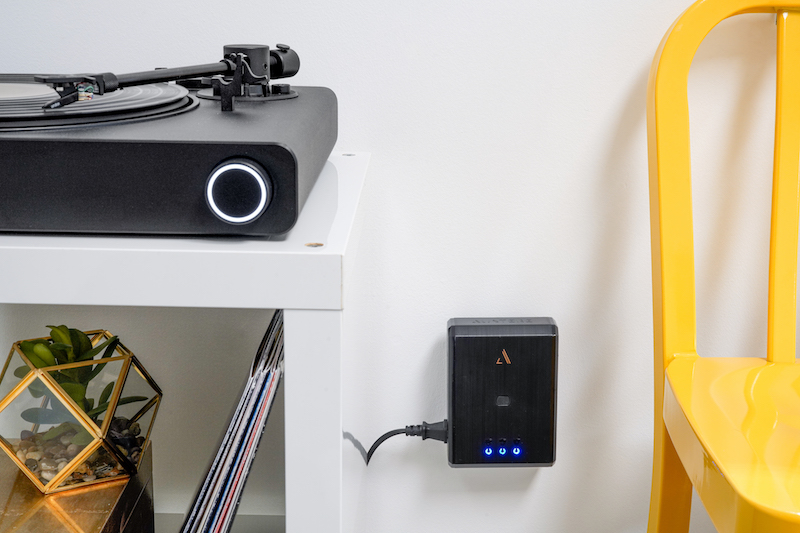 Victrola CEO, Scott Hagen noted: "Victrola is excited to announce the addition of Austere products to Victrola.com. This partnership represents the next step in our journey to curate the finest selection of companion products for our valued customers. Austere's high-quality cables and power products are the perfect pairing for our wireless turntables."
The two companies share a common passion for enhancing consumer experiences, bringing together technology performance and design aesthetics. In alignment with this shared vision, Austere's VII Series and III Series four-outlet surge protectors provide a stylistic complement to Victrola's wireless turntables. Also, to safeguard all audio gear, all VII Series and III Series products feature superior surge protection. Using PureFiltration technology, Austere Power cleans noise and artifacts, that can travel through power lines and keeps them from impacting devices.
Finally, because the performance of any component is amplified or limited by the cable connecting sources to audio hardware, the V Series audio interconnect cables ensure ultimate quality sound when paired with the turntables. Engineered for technical detail, power, and performance, the cables also feature visually stunning housing integrated with Austere's SoftTouch finish that's ideally suited to the aesthetic of the Victrola wireless turntables.